1941 – $326 and a hot dog stand.
The History of Carl Karcher and the Carl's Jr.® Business
Carl N. Karcher was born January 16, 1917, in Upper Sandusky, Ohio. His formal schooling lasted through the eighth grade when he left school to assist his parents on the family farm.
As a young man, Carl made the decision to move from Ohio to Anaheim, California. He worked 12-hour days, six days a week, at his uncle's feed and seed store for $18 per week. In August 1938, he went home to Ohio until a new opportunity arose.
The following year, Carl returned to California and was hired as a bread wrapper for Armstrong Bakery in Los Angeles, quickly earning a promotion to a sales and delivery position. He married Margaret Heinz on November 30, 1939 — a marriage that endured for more than 66 years, and yielded a close-knit family of 12 children, 51 grandchildren and 45 great-grandchildren.
1941 was the year that changed Carl's life, from a career standpoint. He and Margaret purchased a hot dog cart on July 17, 1941, for $326 ($15 cash and $311 borrowed on his 1941 Plymouth Super Deluxe). The first day's sales totalled $14.75. The business grew, and on January 16, 1945, Carl opened Carl's Drive-In Barbecue in Anaheim, Calif. The first Carl's Jr.® restaurants opened in 1956.
Carl's Jr. Restaurants LLC and Hardee's Restaurants LLC own, operate and franchise the Carl's Jr., Hardee's, Green Burrito® and Red Burrito® concepts. Carl's Jr. and Hardee's operate as one brand under two names, acknowledging the rich regional heritage of both banners. After recent international openings in Chile, Cambodia and Kenya, Carl's Jr. Restaurants LLC and Hardee's Restaurants LLC now have over 3,800 franchised or company-operated restaurants in 44 states and 43 foreign countries and U.S. territories.
Community Service
Carl was an active supporter and board member of many non-profit groups and encouraged community involvement within the company he founded. He chaired the 1978 and 1979 Orange County United Way campaign and raised more than $18 million.
He and his wife Margaret generously and enthusiastically contributed to many organisations and were long-time supporters of such groups as Providence Speech and Hearing Center and Lestonnac Free Clinic.
About CJ's QSR Group
CJ's QSR Group Pty. Ltd. is a privately held company based in Melbourne and operates the Australian Carl's Jr. Support Centre in addition to owning and operating 19 Carl's Jr. restaurants in Victoria and New South Wales.
We plan to grow our corporate network of restaurants, and will actively seek and welcome new franchisees as we continue to expand the Carl's Jr. footprint in Australia.
For more information on partnering with us, please click here.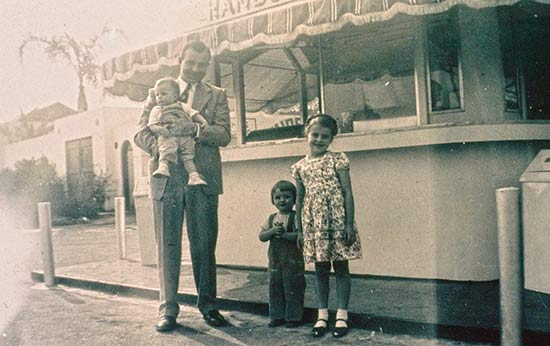 Carl Karcher and his kids in LA outside his burger stand.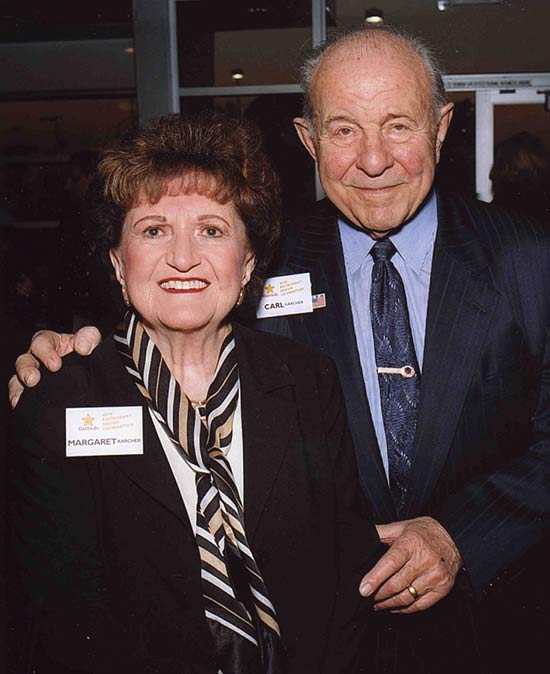 Margaret and Carl Karcher, 2006
Work @ Carl's Jr.
If you're interested in joining Carl's Jr. as one of our valued team members, please visit our national website here.